Indian Cuisine (Kerala Special)
Indulge in food from God's Own country with expert Chef Anup. Learn vegetarian as well as sea food dishes that are part of the most popular culinary fares in Kerala. With this course, emerge equipped with skills to prepare an authentic Kerala meal using traditional cooking methods and spices.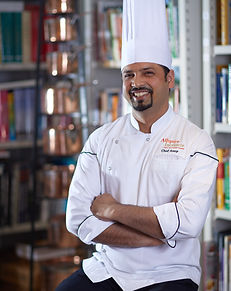 A graduate from Allspice Institute, Anup has since gone on to pursue culinary training and experience around Asia. He studied North Indian cooking in Delhi, creative Thai fruit carving and Thai cooking in Bangkok (Blue Elephant) and plant-based raw food meal preparation certified by the Canadian institute, Rouxbe. Back in Singapore, he learnt cake decoration at the Wilton School, worked in a Japanese kitchen and a cake factory under the Pokka food chain before rejoining Allspice to oversee and manage the Culinary School, focusing on baking and pastry.
[ihc-purchase-link id=27]Enrol Now[/ihc-purchase-link]