Valentines Special Baking Short Course
This Valentine's Day, let love bake! Get closer to your valentine as the two of you get your hands dirty with baking as Chef Anup teaches you the best baking techniques!
Want to prepare individual cakes for sweet beginnings this Chinese New Year? Get trained under the expert guidance of Chef Anup and prepare sweet delights baked with love!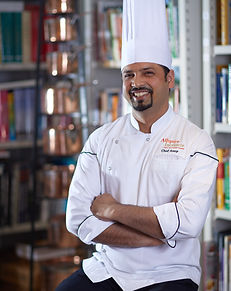 A graduate from Allspice Institute, Anup has since gone on to pursue culinary training and experience around Asia. He studied North Indian cooking in Delhi, creative Thai fruit carving and Thai cooking in Bangkok (Blue Elephant) and plant-based raw food meal preparation certified by the Canadian institute, Rouxbe. Back in Singapore, he learnt cake decoration at the Wilton School, worked in a Japanese kitchen and a cake factory under the Pokka food chain before rejoining Allspice to oversee and manage the Culinary School, focusing on baking and pastry.