Clarence Ling, the Founder and CEO of Allspice Institute, has got two diverse degrees – one with a Chemistry emphasis in Biochemistry, and the the other an LLB. Hw was an Intellectual Property lawyer for Microsoft, Singapore for 7 years. Apart from running one of the best culinary schools in Singapore, he is also the owner of the successful Crispin's Cafe, Brazilian Churrascaria and Italian Restaurant. Clarence is board member of the prestigious Metropolitan YMCA, Singapore as well as the Vice President of the China Society, Singapore. He is a member of the Food and Beverage Committee in the British Club, Singapore, Chairman of Y's Men International, Asia Pacific, Centenary Celebration Cookbook 2022, as well as Chairman of the Witness and Evangelism Working Committee in the Foochow Methodist Church.
Over 90 years of combined experience in top performing culinary schools and professional kitchens.
A graduate from Allspice Institute, Anup has since gone on to pursue culinary training and experience around Asia. He studied North Indian cooking in Delhi, creative Thai fruit carving and Thai cooking in Bangkok (Blue Elephant), plant-based raw food meal preparation certified by the Canadian Rouxbe. Back in Singapore, he learnt cake decorating at the Wilton School, worked in a Japanese kitchen and a cake factory under the Pokka food chain before rejoining Allspice to oversee and manage the School of Culinary, focusing on baking and pastry.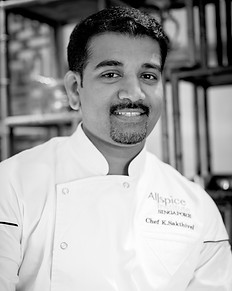 Executive Head Chef & COO
Trained in the cuisines of both Asia and Europe, Sakthi brings unexpected and exciting techniques and flavours together in fusion with local culinary taste. He oversees the administration and operations at Allspice Institute, while also designing menus, and managing food and beverages.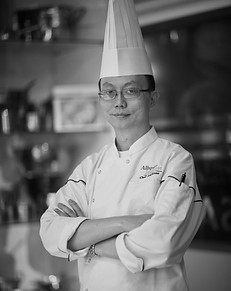 Peranakan & Heritage Cuisine​
Ambrose, a graduate of the pioneer SHATEC in Singapore, is an award winning chef with over 20 years experience in banqueting, fine dining for local and international hotels, restaurants and resort casino. He worked with chefs Violet Oon and Tony Khoo and became the youngest executive chef at the Singapore Turf Club, in charge of creating menus for presidents, royalty and other VIPs. In Australia, he worked with 300 chefs from all over the world, while his more recent endeavours include setting up the company kitchen for Facebook's new Singapore office.