Seats filling Fast. Hurry Up!
Please fill in the detail and submit to get a quick call for enrollment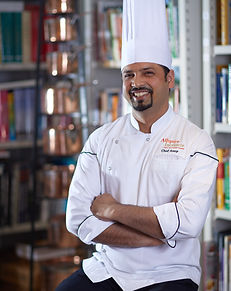 A graduate from Allspice Institute, Anup has since gone on to pursue culinary training and experience around Asia. He studied North Indian cooking in Delhi, creative Thai fruit carving and Thai cooking in Bangkok (Blue Elephant) and plant-based raw food meal preparation certified by the Canadian institute, Rouxbe. Back in Singapore, he learnt cake decoration at the Wilton School, worked in a Japanese kitchen and a cake factory under the Pokka food chain before rejoining Allspice to oversee and manage the Culinary School, focusing on baking and pastry.
Allspice is a culinary Institute with a mission to be amongst the best culinary and hospitality Institutes and to positively influence the quality of culinary services available in the world today. Allspice Institute produces well-trained and globally-recognised culinary and hospitality professionals. At Allspice Institute, our meticulously curated training programs facilitate appreciation and exploration of global heritage cuisines and international culinary philosophies and traditions. At the same time, we also help our students stay on trend with current modern cuisine innovations and discoveries.
Founder & CEO of Allspice Institute
Clarence Ling has been working in the food industry on both the retail and education front. Apart from running one of the best culinary schools in Singapore, he has also been the owner of a gourmet sandwich cafe, and a Brazilian and Italian restaurant. Through his companies, he has been supporting various charities and helping the local communities and abroad.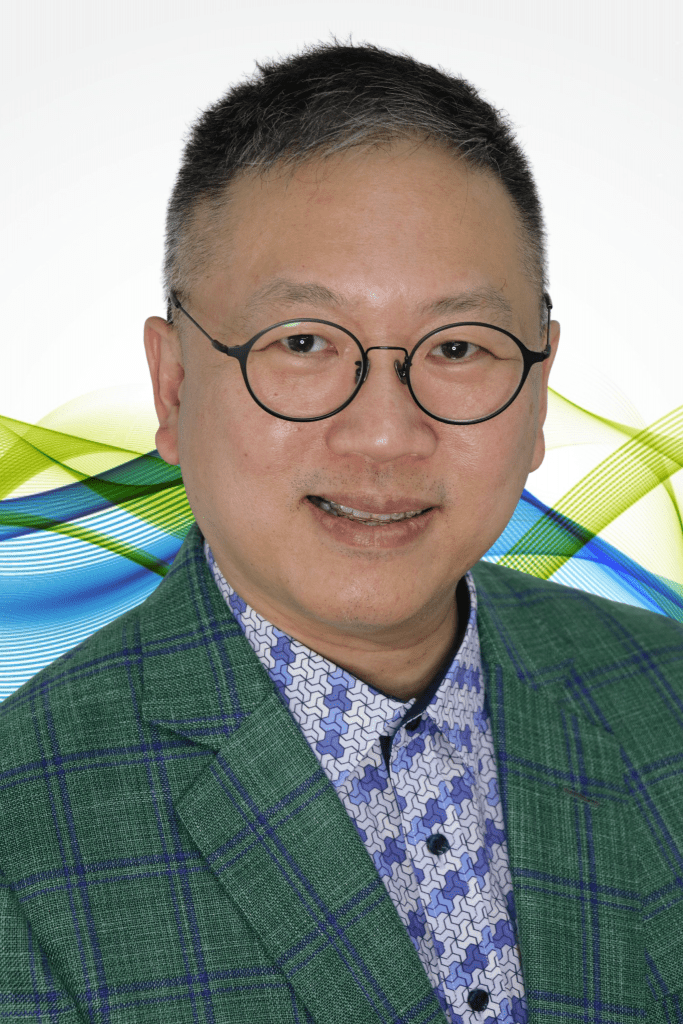 Why Choose Allspice Institute?
Because you are ready to create culinary magnificence for a living.
Allspice Institute offers a wealth of information and tools to enter the world of culinary arts and equips you with the required skill set to master multiple cuisines in the culinary, food and beverage industry.

Choose from various onsite and online courses that cater to all types of students, from beginners to professional chefs.
Business-Focused Curriculum
Our programs are crafted to prepare you for the real world: the culinary, hospitality, food and beverage industries, all of which require a certain standard of quality, efficiency, knowledge and initiative.

Affordable Institute Education
Financial aid in the form of SkillsFuture Singapore (SSG) is available for eligible candidates.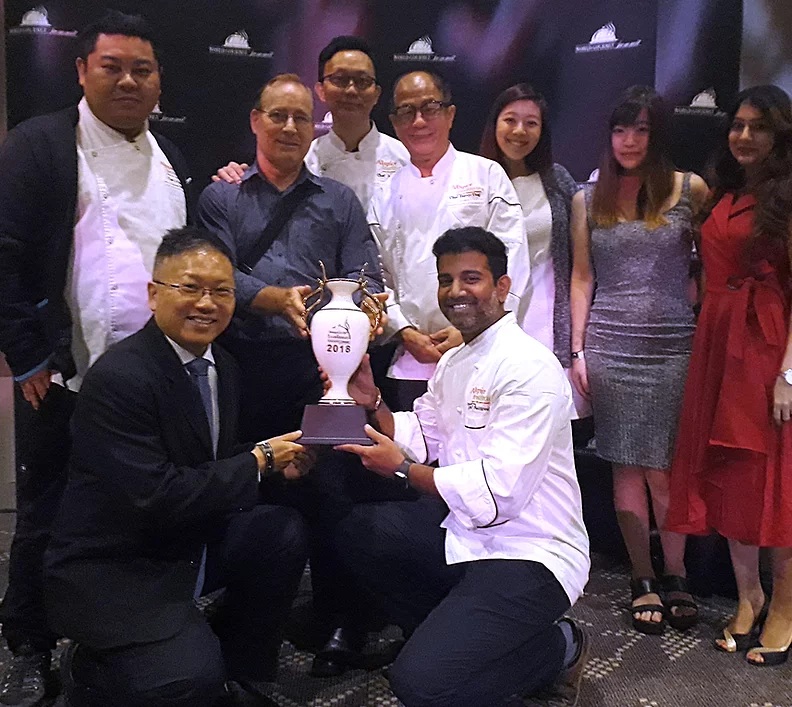 World's Largest Cupcake Mosaic
Allspice Institute contributed with advice and guidance for fondant preparation, cupcake baking processes and mosaic assembly. Over 500 participants and volunteers completed the mosaic with 29,610 cupcakes.
Largest Chinese Character Made of Pineapple Tarts
Allspice Institute & SCS Butter planned, prepared and executed this event. Mentioned in the Singapore Book of Records, 1,628 participants made a total of 106,672 pieces of pineapple tarts which were distributed to needy families.
Singapore book of Records
Lam Soon Singapore engaged the services of chefs from Allspice Institute to guide parents and kids in making sushi using its Naturel brown rice and other products. A total of 292 people took part in the activity at the Kid's World Fair at Singapore Expo on 11 Nov 2017. The company shared the government's effort to promote the consumption of brown rice.
Singapore book of Records 
Largest Word Formation made with Cookies
Hospitality Institution of the Year
Supported by Singapore Tourism Board (Presented by Marrone)
Join for An Exhaustive Online Course Now!
Look at the journey of some of our famous alumni who made it big in the culinary world.
Before his introduction to Allspice Institute, Daniel Heng used to provide sushi for local shops. He had learnt just one recipe from a YouTube video, which he found easy to make at home. But there was so much more he wanted to learn, so his culinary passion led him to Allspice Institute, on the recommendation of an alumnus friend. While he was used to sushi-making, Japanese Cuisine opened a whole new world for him. The concepts, techniques and in-depth knowledge provided in the course gave him the tools to make his sushi-shop dream come true. After the course, he was geared up to open his own vegan Japanese sushi stall by highlighting what he learnt at Allspice Institute about the importance of vegan ingredients and their nutritional benefits. "I believe a good trainer can make a huge difference in learning. I want to thank Miss Anna for all her patience, encouragement and inspiration for us," says Heng.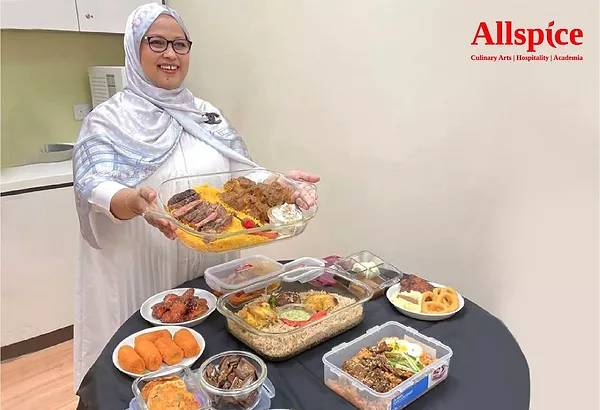 With her online food business, Riya Basir served halal fusion food. She was keen to expand her culinary repertoire to Korean cuisine, which she would later add to her menu. So when she attended a workshop on Korean cuisine, Riya was delighted to learn new cooking techniques, interesting hacks and tricks that would elevate her food business. Says Basir, "All the trainers I crossed paths with have inspired me. Chef Ambrose's culinary experience and knowledge of Korean cooking overwhelmed me. Duration also shared some good tips with me." When asked about her experience at Allspice Institute, she said," The staff is very helpful and accommodating, which I greatly appreciate." She has already recommended Allspice Institute to her friends, who are excited to enrol.
Xia Ping was introduced to Allspice through her friend, colleague and course organiser Vera Lim. Inspired by various chefs at Allspice, such as Chef SY & Anup, Xia learnt to craft mini baguettes and chapatis, making her even more interested in taking advanced courses. Xia owes her success to Allspice, with experts like Chef Chris Wong and Ambrose Poh backing her up, without whom she says she wouldn't learn on her own with YouTube self tutorials. She strongly recommends Allspice to all aspiring home chefs, thanks to the expert advice and live demonstration she has received at the Institute.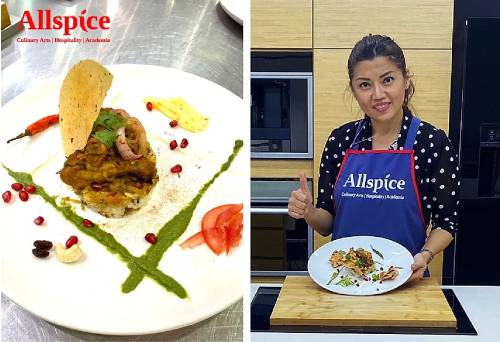 Yvonne NG was always fascinated watching videos of food influencers online, and that's when she decided she wanted to learn how to make professional sushi. A friend recommended her to Allspice Institute, where she did a short course. While training in sushi making, Yvonne was pleased with the knowledge and skills she learnt from Chef Anna and Amelia. She also credits her success to Chef Anup, who guided her to take up the challenge. Allspice gave her the platform and the push to hone her baking and culinary skills, thanks to which she got better business and excellent client feedback.